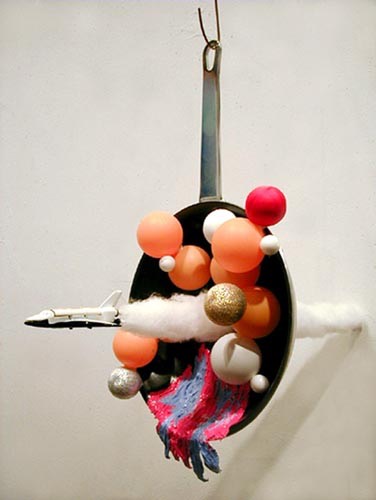 NY Arts Magazine July-August, 2004
Tribes Gallery's Space Travelers
By Mary Hrbacek

In "Space Travelers," the group of twenty-one sculptures and four acrylic and mixed media paintings at Tribes Gallery, artists LIZ-N-VAL merge the simple forms and the satirical humor of cartoons and comic strips with a poetic sensibility that pays homage to the aesthetic vocabulary of surrealist Rene Magritte. Their airy, suspended sculptural works transcend the ordinary, both literally and figuratively. With acerbic wit and a light-hearted approach, the artists convey their message on the fleeting nature of existence through the use of consumer products that range from an aluminum frying pan to whiffle-balls, toys, beads, globes and cotton. In an imaginative, hybrid mix of fine art and functional materials, LIZ-N-VAL explore an array of themes that range from politics, science and metaphysics, to issues of both the pleasurable and the macabre in daily life. 

In Sublime Cuisine, a piece constructed with a hanging frying pan and suspended whiffle balls, an airplane appears to pierce the pan's surface, leaving a jet stream of cotton, in a tongue-in-cheek reference to the Twin Towers debacle. The clusters of whiffle-balls in the signature piece Time-Space Travelers resemble atomic forms in an alternate universe, with cartoon-like tiny planes whizzing among them. In an almost identical work, two U.S. Air Force fighter planes seem to have crashed nose first into the gallery walls above the whiffle-ball cosmos. UFO '04 presents a suspended globe, from which five large paint brushes surrounded by puffy, cotton clouds protrude at odd asymmetrical angles. The piece resembles a Russian Sputnik satellite from the 1950's.
In a comparatively earthbound, cautionary note, the artist team explores a more worldly peril in Consuming Pleasure, where a tiny rubber baby sits on top of a corked wine bottle in a cloud of billowing cotton smoke-rings. The artists give another wink at the human reproductive process and its possible outcomes in Caution, a piece in which a disembodied Halloween-style amputated hand is positioned amongst wispy clouds, like the hand of a traffic cop while a tiny baby crawls away just out of reach. 

In Blue Puddle, wooden artists' stretcher bars lie on the ground, creating the boundaries for a puddle of pale blue paint covered with plastic. Burst I and Burst II are inspired by the incidence of foam that spurts from a shaken beer bottle. Both pieces form classical arches, one made of aluminum foil, the other from polyurethane foam, terminating in a deep blue shape that suggests a pool of spilled liquid. A large puffy cotton cloud, suspended from the ceiling, tops the two architectural works, Cloud Pavilion and Sublime Shower, strings of pearl beads that suggest raindrops hang down, touching the floor, meeting an organic plastic puddle. Both pieces defy gravity in a poetic cloudburst of glittering strings. Sand Puddle appears to be a comment on the havoc that global warming may have on the earth, with a sly reference to earth art. 

The soft, puffy cotton appears to be a metaphor for the human spirit, while the lightweight materials used to form the cosmos and the aluminum globe reflect the fragility of the earth and its atmosphere. This show stresses the ephemeral, transitory quality of natural phenomena and of life's events. LIZ-N-VAL create poetic, often humorous, anecdotal forms that reflect an energetic, philosophical sense of humor that defies mortality. 

Daily News May 13, 2004 A ' Pool' of Art Talent by Joe Neumaier