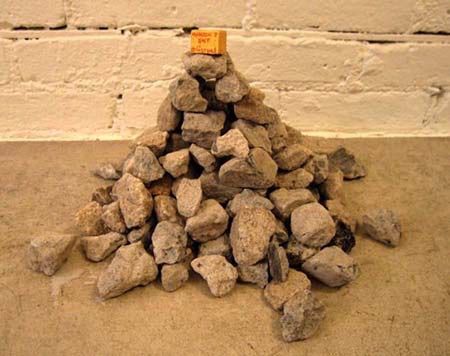 NYArts Magazine 10/11/06
Liz-N-Val Selected ArtSites @ Henrybuilt
by Chris Twomey

The Stairs to Somewhere can be found in Liz-N-Val's "Selected Artsites 2006" on view at Henrybuilt in Soho, NYC. Even though these 6 inch-tall stairs, folded like an aluminum fan, do lead their tiny protagonist teetering somewhere 6 inches above the floor, the real "somewhere" to the success of this installation is the austere space of Henrybuilts' street-level showroom for kitchen cabinet furniture. The pristine and commercial surroundings accentuate Liz-N-Val's guerrilla-like interventions scattered throughout, giving their particular blend of impish play, scathing art world criticism, and social commentary a potency, as well as complimenting their deliberately anti-commercial and anti-craft presentation.
Camouflaged as hip wall decor, A (house) is hard-edged and minimal, subtly blending in with the trendy white spackling of the wall. Using scale for effect, this simple 8 inch A-frame house is folded out of what looks like newspaper. A minuscule stick figure stands dwarfed in the entryway. Elegant but deadly, the newsprint words permeate and shape this home and it's clear that the crude, tiny figure is no match against the power of the media.
Pure Feeling displays red, blue and yellow drips on a mound of white shredded material. Monumental in title but irreverent in meaning, this doll-like 2 1/2 inch sculpture, tucked in a corner, drips with primary color irony as Liz-N-Val share their skeptical take on the resurgence of abstract painting being rediscovered by a new generation.
Will Kill for Fame and Money; painted words dripping on canvas, continues their interest in name branding, the art world star system, and the truth and beauty of fame equaling fortune. Their own personal museum is called "The Museum of Truth and Beauty" where nothing escapes their critical notice. Stack Paintings-Table is a 10" stack of more tiny canvases with red paint rudely poured over them. Construction Site 2006 is composed of 4 stretcher bars, one of which is unhinged. A tiny figure stands in the crevice much like an artist directing the monumental construction of the idea of their intended painting.
Not all the work here subverts the art world's status quo. Liz-N-Val utilize tiny human figures, alone and isolated, and strategically place them hanging by a thread or poised observing the critical mayhem. These figures have pathos as a poignant reminder of the power and helplessness of the individual maneuvering through the complex esthetic and social constructs of our society.
They have concurrently placed a full-page ad in Flash Art magazine, utilizing yet another "outside the gallery box" venue for their work. One piece in the ad is entitled, Monument to Pietro Manzoni. Here at Henrybuilt exhibition, this same piece is entitled Manzoni's Shit and is signed by Liz-N-Val. A tiny 10 inch pile of rock rubble is stacked sedately on the floor. At the top of the pile is a tiny gold box labeled "Manzoni's shit." This piece alludes to the Italian artist Pietro Manzoni, who in 1961 was one of the first artists to can and label his own feces as a commentary on art star power. A Duchampian dialogue ensues. Beyond signing a urinal and declaring that as art, or like Manzoni, signing feces which were then sold at Sotheby's in 1991 for $67,000, Liz-N-Val take the idea to facetious 10 inch heights.
Most of this work bites the hand that feeds it. Remember, these are the artists who tied a pre-stretched 4 x 6 ft. canvas to a dog leash, named it Woof and dragged it around Soho in 1999. Intelligent and scathing, theirs is a conceptual art that delights in provoking. By their low-tech means and entrepreneurial tactics, these inventors of 'Something out of Nothing" take nothing for granted. They are "Seeking Creative Visionary Supporters" as one of their canvases awkwardly scrawls. Let's see who finds what, at this intriguing treasure hunt meant to raise hackles and tickle minds.